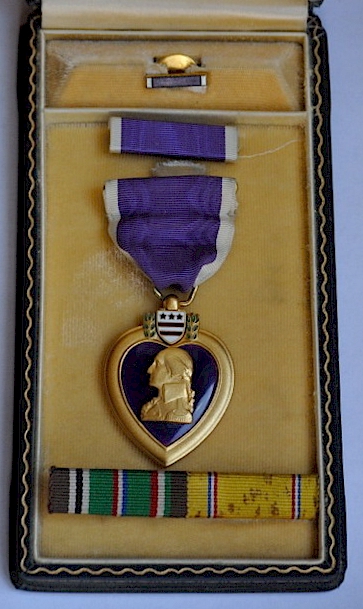 How do you write a story about someone you never knew? He was born and died before I was born. He was not someone you heard about in a history class in school. This story started with a Christmas gift given to me by my sons, 67 years after his death. He gave his life in the service of our country, killed in action in a foreign country. He received the Purple Heart Medal after his death.
For me, the story began on Christmas day, 2011. I collect old cameras. My sons, Jason and Justin gift me with old cameras from time to time for my birthday or Christmas. This time, the gift was an old Kodak Cine', Model E, 16mm movie camera. At first glance, it was an interesting camera.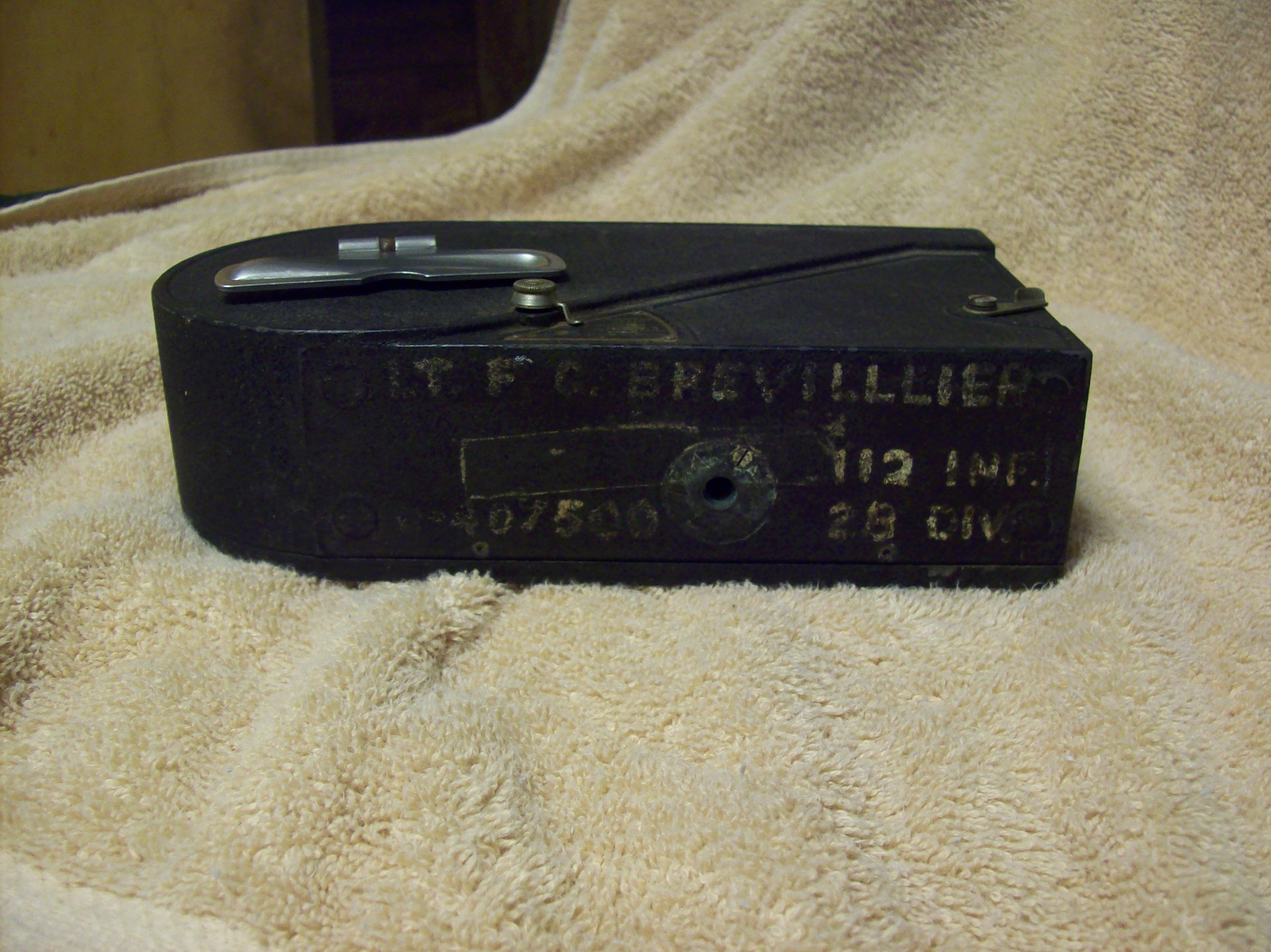 A heavy, wind up drive camera in really good shape, but missing the carrying strap. However, on the bottom was some printing in white paint that was worn but readable. It said "Lt. F. C. Brevillier, 112 Inf., 28 Div., 0-407500. Interesting, the name of someone who owned the camera at one time. There was more information than just a name. A rank, an infantry number and a division number. Then there was the other number, 0-407500. The search started. Ryan Harrison, a friend of my sons was here a couple of days after Christmas and I showed him the camera and told him I was searching on the information printed on the bottom of the camera. He discovered that the division was part of a National Guard unit out of Erie Pennsylvania. He also discovered that Lt. Brevillier was killed on August 7th, 1944 in France. I was so hoping to discover he was still alive or to find his children or grandchildren. However, he never married and had no children.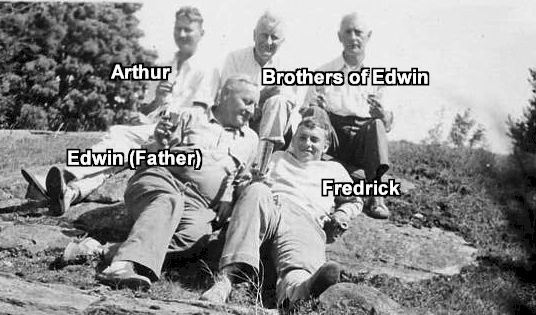 Later that evening I picked up the search for the family name again. I discovered 3 listings on one of my people search sites with the last name. One was listed in California and 2 on Colorado. Tried getting a phone number for the one in California. No luck. Tried the first name listed in Colorado. I got a phone number! OK, I just had to call the person to see if they were related to Lt. Brevillier. I dialed the number and someone answered. His name was Conrad Brevillier. I told him who I was, where I was calling from and why I was calling. YES! He was related to the person I was searching for information on. I don't know who was more surprised, him or me. We talked for a while, shared informati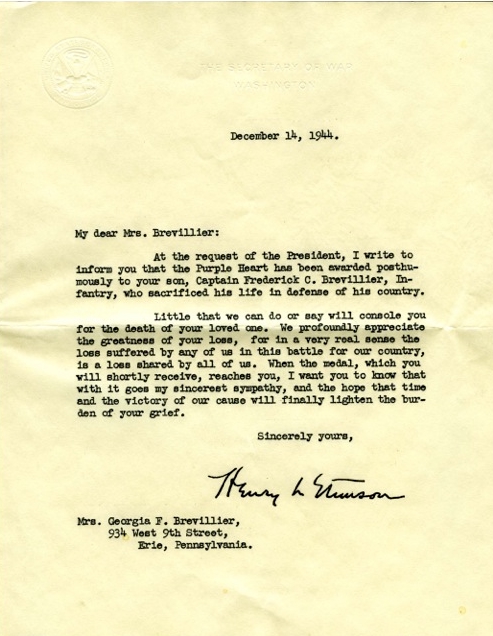 on and email addresses. Conrad has film that was shot with this camera. Over the past month he has sent me several photos and scans of letters and documents. One of the most touching pieces I received was a scan of a letter sent to Captain Brevillier's mother (He was promoted to captain just after a visit from his mom at Camp Livingston La. after his father's death in August of 1942) of him receiving the Purple Heart Medal posthumously. Other scans were of 2 letters sent home to Conrad's parents while Fredrick was in training before he was shipped out to England and then to be part of the Normandy Invasion (unknown to him at the time).
The letters bring out the personal side of Fredrick's life. In the first letter dated May 24th, 1942 he talks about seeing the country at the government's expense (sounds like today). He was sent to different camps from Camp Livingston La. to Fort Benning Ga. to extensive maneuvers in North and South Carolina and then to Harrisburg Pennsylvania and from there he was in the dark to where he was going next. He was training new "selectees" on different weapons, like the M1 Garand, the 30 cal. water cooled machine gun and the 37mm anti-tank gun. As he said " if something happens to someone, any man could take over a weapon". The second letter was from December 21st, 1942. This was just 4 months after his father's death. His mother was able to come from Erie Pennsylvania to Camp Livingston to visit. She was able to stay on base in the nurses barracks. That was good since with gas rations of 4 gallons a week and it was 15 miles to town. The day after his mom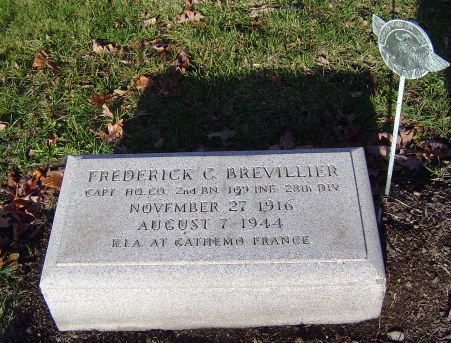 left his promotion to captain came through. She missed that. The photo above is of Fredrick, his father, one of his brothers and two of his uncles. One of the last photos I received was his grave marker in Erie Pennsylvania in the family plot. The last piece of information I was missing on his death was where in France he died. Captain Fredrick C. Brevillier was killed in Action on August 7th, 1944 in Gathemo France. I am trying to find out more about this battle. In my search for information I came across a man searching on information for his 93 year old father. His father was trying to locate an army buddy in the same division as Captain Brevillier. His father was involved with the liberation of Paris and remembers setting up and firing a 105 Howitzer under the Arc de Triomphe , firing at the german troups as they retreated from Paris.
I have plans for the camera. I want to shoot one last roll of film in it. I have found a source for some film and processing. One day soon. One last thing, that number on the bottom of the camera, 0-407500. This is Captain Brevillier's Army Service Number.
Click here to watch a video presentation